However, start-uppers are sometimes too focused on their actual business that they don't realize how quickly everything that they have created can be put at risk.
From a legal point of view, here are the areas that are important: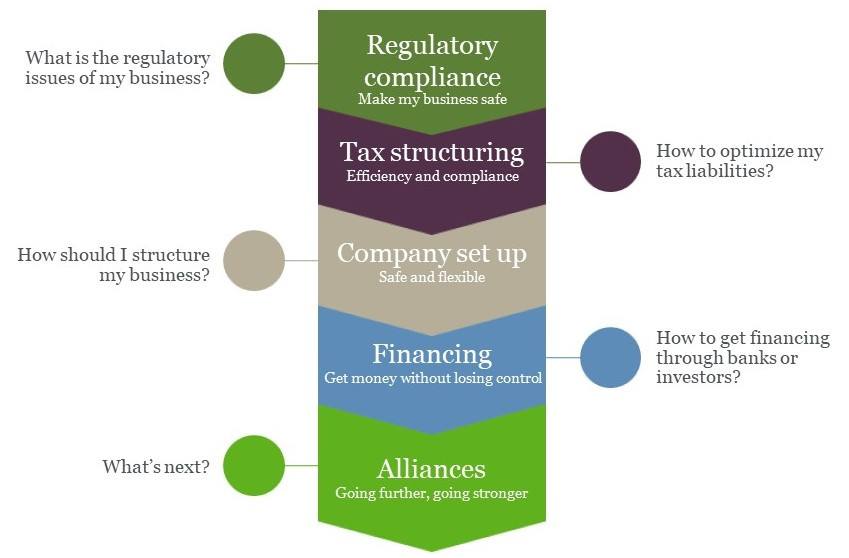 Reg… what now?
From the outset, it is important that new businesses are compliant within the existing legal framework. However, regulatory frameworks are becoming more and more complex and fast evolving. And the businesses need to keep up with them. Moreover, innovation is often found in nascent areas which are by nature less regulated (or not regulated at all). FinTechs for instance, typically operate in a grey area of regulation.
Always about tax, right? 
Tax optimization is for every business. It is a way of anticipating future steps of business development like being attractive for future investors, saving profits to reinvest in R&D or conquer new markets. And of course, every structure has to comply with ATAD , ATAD2, DAC6, and BEPS.
Company set up, what's the issue?
The needs of a company depend on its stage of evolution: they are fundamentally different for a new business than for a mature one. A company needs the flexibility to grow by being attractive to new investors without the founders being left exposed or losing control. The way the company is structured is key for business growth.
Money, money, money!
For sure, getting the necessary funds to grow is the no.1 priority of every start-up, but keeping control over the business can be challenging.
Do you want to be my friend?
Building alliances, whatever their kind, is important, but they should be mutually beneficial. The required contracts have to be balanced and not one way.
At each step of a company's growth, our legal assistance can make the difference with the aim of ensuring your long-term success.
Hogan Lovells advises businesses, all over the world, facing this kind of matters. As one of the two most innovative law firms in Europe in 2019 (by the Financial Times), we deliver every day a pragmatic and efficient legal assistance, regardless of the complexity of the issue.
Need any assistance? Want to talk? Get in touch !