Get ready for an unprecedented electronic music festival in the heart of Luxembourg. Sunset vibes, beautiful people and groovy dance tunes that will make your feet move. What better way to celebrate the end of your best summer yet?
On September 14th, the iconic place de l'Europe in Kirchberg will be transformed into a magical wonderland where world-class DJs as well as upcoming Luxembourgish acts will entertain you from 11:00am to 11:00pm to make sure you are ending your summer on a high note.
LOA's line up ready to make your feet dance
That means twelve hours of non-stop entertainment with electronic music ranging from Melodic House and Deep House to EDM and Tech House. Headliners include Mike Williams, Brooks, Marnik, Lovra, and Danko who all recently performed at Tomorrowland, one of the biggest festivals in the world.
Referred to as "artist of the future", collaborating with the likes of Tiësto, as well as performing at Tomorrowland and other well-known festivals, MIKE WILLIAMS has become one of the most asked-for artists in the scene.
Challenging the festival status quo
Besides bringing 5 extraordinary headliners to Luxembourg, the LOA vision intends to exceed current festival standards. Luxembourg Open Air is offering this whole experience at one of the most breathtaking locations for FREE, meaning no one needs to purchase tickets in advance. Everyone is invited to drop by on September 14th and LOA is welcoming everyone to stay for as long as they wish. Keep in mind that there is limited capacity so better be early to enjoy all the fun and not miss out on one of Luxembourg's most exciting festivals of the year.
In addition, LOA is reducing its environmental footprint by introducing a no-single-use plastic policy as well as closely working with the Luxembourg Ministry of Transport in order to offer free public transport in the city center for the entire 14th September.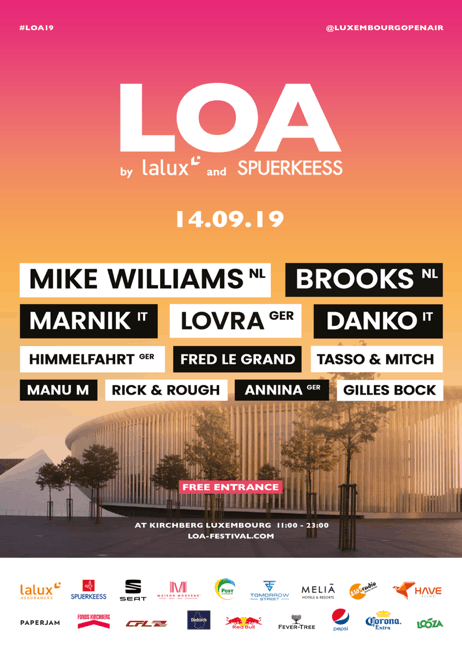 More than "just" music
Luxembourg Open Air is, however, not only about music. Fellow sports lovers will also be catered to during the day as the CrossFit Bearcrawl team will join us in the morning for a workout to get everyone's heart pumping.
During the whole festival, a wide variety of food trucks will be happily serving delicious food in the LOA food village, so no one has to dance with an empty stomach. A wide variety of deli, such as African dishes and vegetarian options as well as sweet treats will satisfy your cravings.
In addition, there will be a tattoo artist, a merchandise stand, a graffiti artist, a photobooth and more so you can have a blast while listening to the smooth & electrifying sounds of the LOA DJs.
Social Media
Check out the LOA webpage and social media accounts for further details and updates in the coming weeks lining up to the first-ever LOA festival.
We're looking forward to seeing you on September 14th at place de l'Europe!