In the six years since Dentons' creation the firm has expanded rapidly around the world. Can you give our readers a sense of Dentons' current footprint?
Frédéric: With a legacy going back to 1999, our Luxembourg office combined with Dentons in 2016, and since then it has been part of Dentons' spectacular rise into the top 10 of the Acritas Global Elite Law Firm Brand Index. Since 2016, we have grown by several thousand lawyers and have just reached the 10,000 lawyer milestone, the first time a law firm has ever done this. With offices in 175 locations and 78 countries around the globe, we are the world's largest law firm, with a global reach and access to knowledge and technology of which we could not even have dreamt back in 1999.
Tomasz: Today, across Europe and the UK, we have grown to 2,250 lawyers in 33 offices across 21 countries and Dentons is working with 80% of the top 100 companies in Europe. We have opened new offices in Milan, Luxembourg, Rome, Munich, Amsterdam, Dusseldorf, Tbilisi and Tashkent. We have also invested in strengthening our talent in key Western European markets – most notably in Germany, France and Italy – while maintaining our market-leading position in CEE.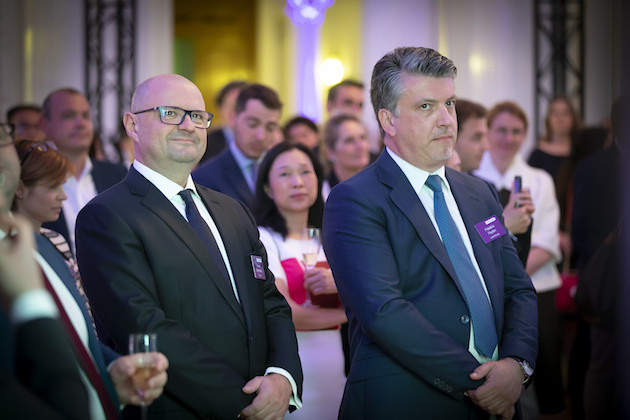 How can you describe the main activity of the Luxembourg office?
Frédéric: Initially focusing on the private equity industry, we gradually expanded our focus and competences to be able to assist clients in all kinds of industries on all kind of matters such as real estate, corporate, M&A, fund formation, regulatory, finance, and tax.
Looking ahead, what do you think is going to be the most promising areas of legal consultancy work?
Frédéric: Our Luxembourg office does a great deal of work with Chinese banks headquartered here. The Dentons Europe China Desk was launched last year, headed by Luxembourg-based partner Shaohui Zhang. This is an indication of how we have positioned ourselves to support both Chinese outbound investment into Europe and inbound investment into China.
Tomasz: The China Desk will facilitate cooperation and integration between Europe and China, where we have more than 5,100 lawyers.
What are your expectations for the next year?
Frédéric: We see an opportunity to use Dentons' global reach to serve our clients' needs, wherever they do business. We also see an opportunity to expand our service offering here in Luxembourg into various areas such as GDPR, energy, TMT, Fintech, intellectual property, etc. 
Tomasz: Our goal is to be a top global law firm on the continent, to be trusted advisers to our clients, and to continually challenge the status quo of the legal profession. In the next few years, we are looking to grow in important markets in Western Europe and possibly add new markets such as the Nordics, Austria, Switzerland and Portugal. Stay tuned!