Apollo Strategists SA
11b, avenue de la Porte-Neuve L-2227 Luxembourg
Informations principales
11b, avenue de la Porte-Neuve L-2227 Luxembourg
Année de création : 2012
Français

·

Anglais

·

Allemand

·

Luxembourgeois

·

Italien
Apollo Strategists is a Luxembourgish PR advisory company focused on strategic communications. Its offices are located in the heart of Luxembourg-City, close to the business centers and to European and local administrations. Created in 2012, the company is an independent member of the FTI Consulting network, a global business advisory firm with worldwide offices.
Apollo accompanies mergers and acquisitions, supports companies facing crisis and plans for their long term positioning.
Apollo has a broad portfolio of international and local clients including global technology, financial & industrial companies, as well as governmental organizations.
Services
The company specializes in PR advisory: strategic communications - public affairs - crisis communication & media relations. Apollo Strategists engineers and executes communications strategies - drawing upon the multidisciplinary experience of its experts in crisis management - public affairs and media relations. We help executives and management teams to seize opportunities - stake a competitive position - articulate their brand - manage crises and navigate market and business disruptions. We advise investors - company owners - business leaders and board of directors at a strategic level. Apollo Strategists has a strong expertise in the financial and industrial fields: aviation and space industries - energy - health sector - automotive - IT - private-public and public organizations.
Décideurs
Comité de direction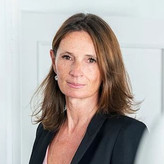 Pascale Kauffman

Managing Director & Founder