mercredi 23.10.2019
Le contenu ci-dessous est exclusivement disponible en anglais.
Day 3 - Luxembourg Art Week Conference Cycle - Management of Private and Corporate Art Collections: Benefits and Issues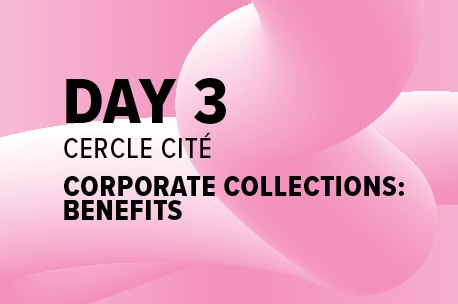 Luxembourg Art Week
We are pleased to announce our new partnership with Luxembourg Art Week for their new event Management of Private and Corporate Art Collections: Benefits and Issues.
On October 23rd, panel moderator David Arendt, Partner and Independent Director at The Director's Office will lead a discussion on Corporate Art Collections.
Attendance at the conference is free of charge.
Day 3: Corporate Collections: Benefits
What are different structures for holding Corporate Collections? How to manage a corporate collection? What are short and long-term purposes of Corporate Collections?
Each speaker will present their topic for 8 minutes, followed by a 1-hour Q&A session with the audience.
Programme
17:00 Welcome of the participants 
17:30 Welcome speech and announcement of speakers by David Arendt
17:35 What are different vehicles for holding art? (Tax and legal structures in Luxembourg)
17:45 Holding Corporate Collections
17:55 Patricia de Peuter, former Head of ING Art Collection - Management of Corporate Collections 
18:05 Delphine Munro, Head of Arts and Culture at EIB Institute and board member of IACCCA – International Association of Corporate Collections of Contemporary Art
18:15 Corporate Foundations
18:25 Tonika Hirdman, General Director of Fondation de Luxembourg - Foundations
18:35 Legislation to encourage public donations
18:45 Suzanne Cotter, Director Mudam Luxembourg - Donations, A Museum's Perspective
18:55 Panel discussion and Q&A
20:00 Closing Speech by Mrs. Sam Tanson, Minister of Culture
Closing cocktail 
Participants are invited to stay and dine at AKA restaurant, within Cercle Cité, following the conference and closing cocktail (cost 45€ per person, seats are limited). Please confirm your dinner participation on the registration form. 
Would you like to be the first to be informed of Luxembourg Art Week news? Join the mailing list and receive a preview of the fair dates, the list of exhibitors, the fair programme, the digitised catalogue and much more! 
Important
Participants are hereby informed that they are likely to appear on photographs taken at the event. These are intended to be published in print and/or digital media published by Maison Moderne.