What is Bitcoin and why would banks care?
The concept of digital money is not new, but Bitcoin made it mainstream. Based on blockchain technology, it was launched on October 31, 2008, when the founder operating under the pseudonym of Satoshi Nakamoto published the white paper "Bitcoin: A Peer-to-Peer Electronic Cash System". The paper described a method of using a peer-to-peer network with transactions executed without any reliance on central authority or trust. It served as a blueprint for other blockchain based digital currencies implemented today.
Such networks rely on native cryptoassets, which are generated via a "mining" process. Anyone can buy and sell these assets for fiat currency (i.e., EUR, USD, etc.) or other cryptoassets (i.e., Ether, Dogecoin, etc.). What has made cryptoassets famous is the mind-boggling price increases along with devastating price crashes over the years. Day traders and speculators began to trade these assets in order to exploit this volatility. With time, retail investors began to take notice and in turn started to buy them up with any money available, including credit. Banks, having forbidden the use of credit to buy such assets while not offering such investments themselves, pushed retail clients to look for other ways to invest. This resulted in an outflow of funds from banks. To seize the opportunity, many new exchanges were established allowing clients to buy and sell cryptoassets directly for a processing fee. Banks, seeing the corresponding outflow of deposits, began to look at ways in order to 1) minimise the outflow; and 2) try to capitalise on this influx of trading and charge the fees for themselves.  
What do banks need to do in order to start accepting cryptoassets?
The main hurdle preventing banks from embracing cryptoassets is the regulatory environment or, more precisely, the lack of it. The financial industry is the most regulated industry in the world. As a result, in order to push into a new product or business area they need to both get a "green light" from relevant regulators (e.g., CSSF, ECB) and understand potential prudential impacts.
Understandably, regulators need to propose and agree on these guidelines themselves. Fortunately, over the past couple of years, the regulators have begun to investigate this topic and draft what future regulatory requirements for such assets might be. One of the latest papers released on this topic was from the Basel Committee of Banking Supervision (BCBS), called "Prudential treatment of crypto asset exposures" (June 2021).
What might the regulators require?
In its paper, BCBS outlines its guiding principles of how the banks and the supervisory bodies should approach cryptoassets. The proposed framework is based on the following:
·       Same risk, same activity, same treatment: meaning if the cryptoasset provides the same economic function and poses the same risk as a traditional asset (i.e., cash, equity, fixed income, commodity) then it should be subject to the same requirements,
·       Simplicity: steer away from complex modelling methods,
·       Minimum standards: this treatment should constitute the minimum standard.
Guided by the above-mentioned principles, BCBS proposed the following guide for prudential treatment of cryptoasset exposures.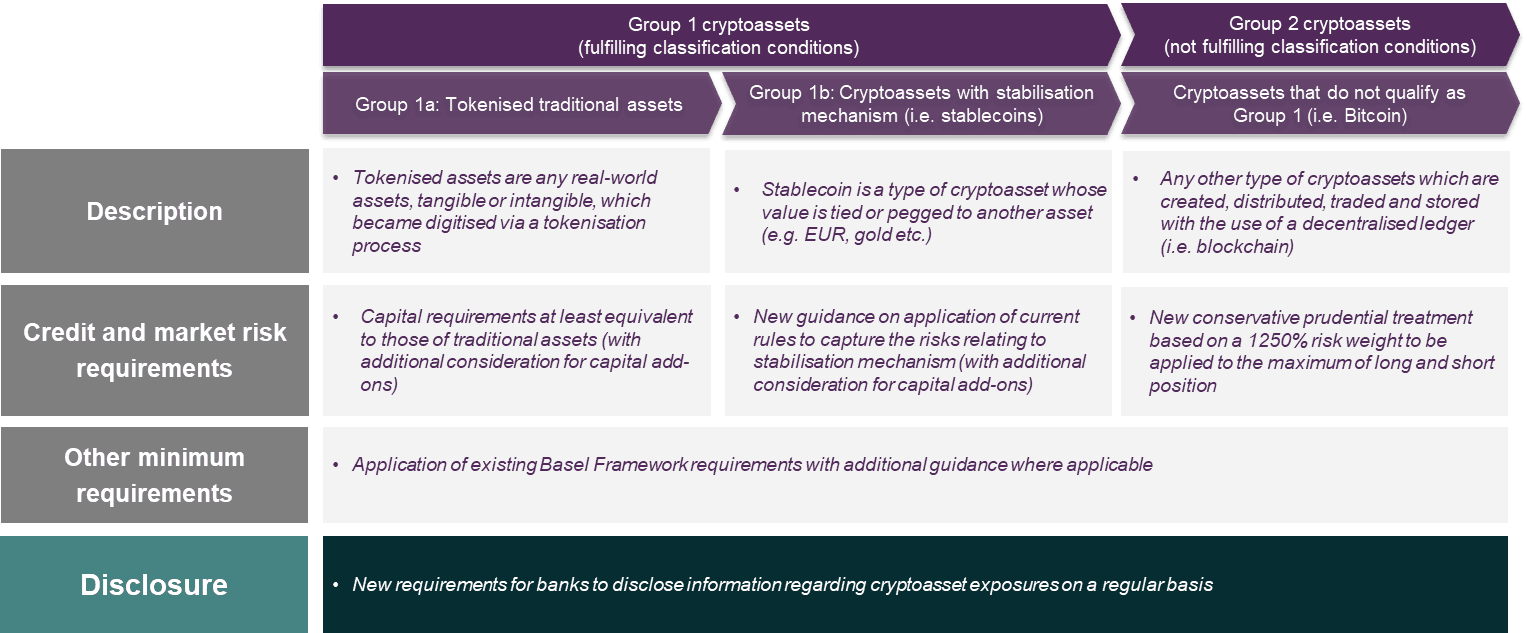 What challenges should the banks expect?
Initially, banks would need to screen and classify each cryptoasset in order to determine which group the asset falls into. Even though BCBS outlines a number of conditions to be satisfied, the actual classification process can be challenging due to:
·       technical expertise required in order to understand the underlying Distributed Ledger Technology (DLT),
·       lack of systems and processes for on-boarding and monitoring of cryptoassets,
·       ensuring that cryptoassets are compliant with these conditions on an ongoing basis.
In order to on-board these products, banks will have to dedicate significant time and resources to hiring appropriate talent, developing required processes and systems and, most importantly, ensuring that they get a return on their investment. The latter being the most difficult due to the uncertainty of the adoption of such assets.
Are banks exposed already?
Many banks are resistant to cryptoassets, seeing them as industry disruptors. Big banks like JPMorgan Chase, Bank of America and Citigroup have banned the purchase of cryptoassets with credit cards. Their main concern is the anonymous and decentralised nature of these assets. In addition, these assets are hyper-volatile and thus pose potential risks for banks. Nevertheless, some banks like Morgan Stanley and Goldman Sachs do provide exposure to Bitcoin funds and the like. The only caveat being that such funds are only available to ultra-high net worth individuals and family offices, which can bear the fluctuations.
The rise of cryptoassets and their disruption potential can be compared to the rise of the internet, and according to some observers, will change the way we perceive and define money in the future. However, as of today, banks are reluctant to deal with cryptoassets due to the points mentioned earlier. If history has taught us anything, it is that any innovation will undergo a number of changes, adaptations and revisions before people begin to see the final state. Thus, we foresee that the regulatory environment for cryptoassets will follow an iterative process before final regulations take shape. Nevertheless, it is important to continue to follow developments now to understand and be prepared for what lies ahead.
More information about Avantage Reply Luxembourg here