Sustainable cloud positions companies in Luxembourg to deliver on new commitments: carbon reduction and responsible innovation. Companies have historically driven financial, security, and agility benefits through cloud, but sustainability is becoming an imperative.
- 44% of CEOs in the United Nations Global Compact – the Accenture Strategy CEO Study on Sustainability see a net-zero future for their company in the next ten years. 
- 4.7x Between 2013–2019, companies with consistently high environmental, social and governance (ESG) performance enjoyed 4.7x higher operating margins and lower volatility than low ESG performers over the same period.
- 30-40% Migrations to public cloud result in up to 30-40% total cost of ownership (TCO) savings.
As importantly, cloud migrations also unlock new opportunities like clean energy transitions.
Drivers like greater workload flexibility, better server utilization rates, and more energy-efficient infrastructure all make public clouds more cost-efficient than enterprise-owned data centers.
As importantly, cloud migrations also unlock new opportunities like clean energy transitions enabled by cloud-based geographic analyses, material waste reductions from better data insights, and targeted medical R&D as a result of faster analytics platforms.
Migrating Luxembourg towards a greener cloud
Not all cloud migration approaches are created equal. Sustainability benefits will vary based on these three things: 
1. Select with purpose 
The first step towards a sustainable cloud-first journey begins with selecting a carbon-thoughtful provider. Cloud providers set different corporate commitments towards sustainability, which in turn determine how they plan, build, power, operate, and retire their data centers.
The journey towards a sustainable cloud involves three ambition levels.
Carbon emissions can differ widely across providers even though many providers have focused on driving down energy consumption to standard benchmarks. Differences arise from varying ranges of corporate investments in renewable energy generation, the reusability and recyclability of data center hardware, and advanced analytics for better management of asset operations. And cloud customer-facing services like transparent real-time reporting of associated carbon emissions can help track actuals against sustainability goals.
2.    Build with ambition
The journey towards a sustainable cloud involves three ambition levels:
2.1.  Infrastructure as a service (IaaS) migrations without major redesign: Companies with average on-premise to cloud migrations can drive 65% energy reduction and carbon emission reduction of 84%.
2.2.    Sustainable software engineering practices: Companies can reduce application energy consumption by up to 50x when selecting the appropriate programming language for the task.
2.3.    Application optimization for fabric of the cloud: Companies can stretch carbon emission reductions to 98% by configuring applications for the cloud. 
The graphic below indicates the incremental levels of carbon reduction that can be achieved – the greater the ambition, the greater the reduction in carbon emissions.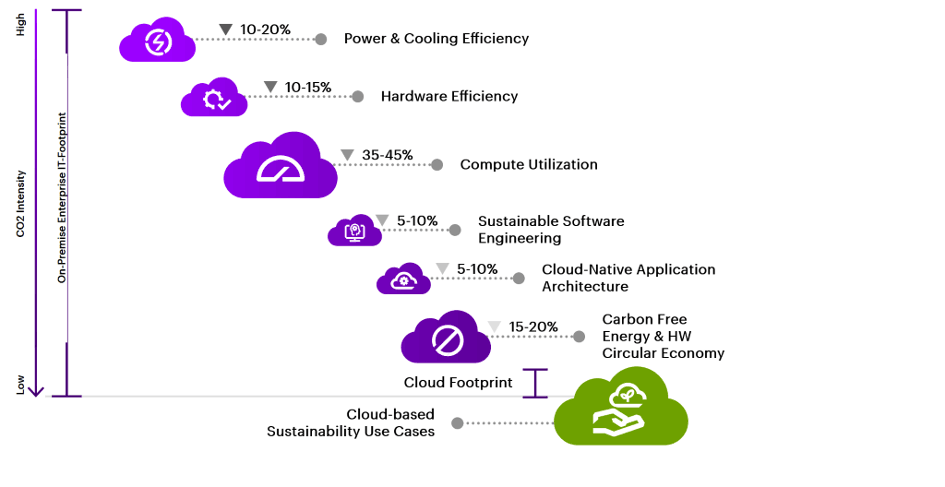 3. Innovate further
Companies can unlock greater financial, societal and environmental benefits through cloud-based circular operations and sustainable products and services.
The greenest cloud
Luxembourgish companies beginning their cloud journey confront a number of questions. The decisions they make will directly determine how sustainable their solutions are and the benefits they drive. Those that choose wisely will gain unprecedented levels of innovation leading to both a greener planet and a greener balance sheet.
In short, a lift & shift approach is often the first step for large enterprises, and this reduces the carbon emissions already by almost 84%. For SaaS applications it is very similar. If a company in Luxembourg decides to redesign or refactor their applications and make it cloud native, then even up to 98% of carbon can be saved. This is a huge difference to hosting on-premise and is yet another reason for moving to the cloud.
Read more with "The Green behind the Cloud" full report .