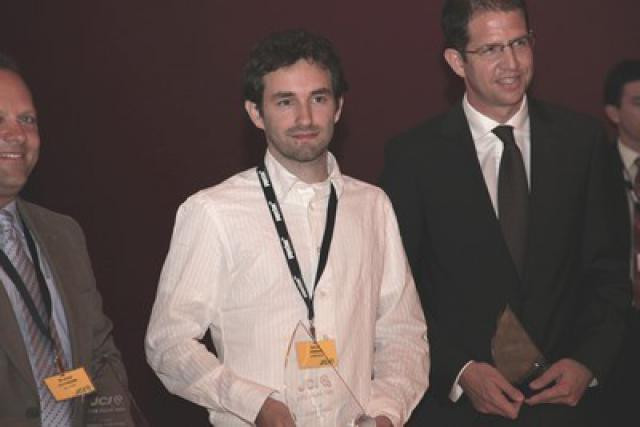 Sylvain Zimmer, founder of Jamendo was named Creative Young Entrepreneur of 2009 for Luxembourg on June 29.
In the spectacular surroundings of the Philharmonie, the third annual CYEL award was bestowed upon Sylvain Zimmer, founder of online music sharing platform Jamendo. The runner-up was Stéphane Ledermann of Smart Air, the fractional business jet ownership solution, while MyOfficialStory's Jérome Bloch was placed third. All three will be the ambassadors for Luxembourg at the Creative Young Entrepreneur worldwide award, to be held next November in Hammamet, Tunisia. The independent jury this year was comprised of Rachel Gaessler (Business Initiative), Frédérique Gueth (123 GO), Diego Di Biasio (Technoport), Michele Gallo(Luxinnovation), Yves Kemp (KPMG), Keith O'Donnell (Atoz), Enrico Lunghi (Mudam), and jury president, Mike Koedinger (Mike Koedinger Editions) A "coup de coeur" prize was awarded to Anatoli Papadopoulou for her creation of an original fashion brand specialising in accessories for women.
The journey doesn't end here...
"Creativity is a way to step out of crisis and plan for the future," says Artur Sosna, president of Junior Chamber International (JCI) in Luxembourg, the organisers of the CYEL award. Although often considered somewhat conservative when it comes to entrepreneurial spirit, this country is beginning to foster a change in mentality: as Gérard Eischen, of the Chambre de Commerce, points out, "the JCI in Luxembourg has undergone a stunning evolution over the past five years, involving both foreigners and native Luxembourgers." This does not necessarily mean it is time to pat each other on the back. If there was a common thread running through all who addressed the audience, it was this: progress has been made but now, more than ever, there is work to be done. As Eischen continues, "events such as this showcase the depth of entrepreneurial spirit in this country, and they are aimed at stimulating talent. But we need more homegrown creativity and wealth generation to cope with increased international competition."
This is a sentiment echoed by Hedda Pahlson-Moller, Adjunct Professor of Entrepreneurship at Sacred Heart University, who points out that "Luxembourg is a story of national entrepreneurship in itself," even though when the "brand of Luxembourg" is considered, entrepreneurship doesn't necessarily spring to mind instantly. Nevertheless, she praises the initiatives that have been taken, from Technoport to government support for the marketing of Luxembourg-based services to foreign markets to networking events that put entrepreneurs in touch with one another. She is candid enough to admit that there is no single correct formula for perfect entrepreneurship which, when one considers the course she teaches, is commendable. It is not an exact science, and it may be that many lessons, failures and knocks will need to be taken on board before success can be obtained. Keeping your head above the water will also require some luck, motivation, inspiration, and the belief of those people around you.
Strength in numbers
So what can Sylvain Zimmer expect from winning the award? According to Xavier Buck of EuroDNS, the winner of the CYEL prize in 2008, "getting the award undoubtedly improved the visibility of EuroDNS, although it is difficult to quantify the exact impact it had. It is certain that we received a lot of feedback, and the award was a source of pride for the whole company." Upon the announcement that he had won, Zimmer was rather humble, gesturing to the audience to stop applauding and looking ever so slightly embarrassed as well as proud to win this year, after placing third last year. His view on entrepreneurship? "This is a call to action. We are innovating, and innovation is by nature a risk. We want to grow in this environment but we still need help and support. Jamendo is at a critical stage, on the verge of breaking-even." Zimmer was keen to deflect attention away from himself, praising the team around him and all the support he and his company received along the way. Still only in his mid-twenties, Zimmer has plenty of time on his side, but what advice would he give aspiring young entrepreneurs? "When I started Jamendo in 2004, I had no idea how it would grow. Were it not for the support of the team, our backers and advisors, it wouldn't have. But I hope this inspires new people that Luxembourg is a great place, and I want to encourage people. Really, it's a lot of fun!"
It is never easy to predict the future, and thus the make-up of the 2010 CYEL candidates cannot be known at this stage, not least whether Zimmer will carry out his threat of not entering again if he won. He couldn't really be blamed if he reneged on a statement made half in jest. But there are always twists and turns over time, and that is what creativity is about: as Koedinger states, "as well as the finalists, all twelve original candidates surprised us more than once." But for now? To the victor, the spoils...
See all the pictures HERE
View video interview Hedda Pahlson-Moller HERE
View video interview Xavier Buck HERE
View video interview Jérôme Bloch HERE
View video interview Stéphane Ledermann HERE
View video interview Sylvain Zimmer HERE
View video interview Keith O'Donnell HERE