Just four months ago, Covid-19 was barely in our minds. On March 11, 2020, the World Health Organization (WHO) recognised it as a pandemic and since then everything has been accelerating.
The spread of Covid-19 is changing how we live and work in ways we would not have thought possible six weeks ago as Luxembourg entered into confinement following Italy, Spain and France. Today's new normal for businesses includes work-from-home challenges, disrupted operations, limited interactions with clients, cash crunches, uncertain compliance obligations, and the mechanics of applying for government's new measures and programs.
Most businesses and organisations have been able to mobilise their crisis plans and adapt them quickly to handle something they were not quite prepared for. And as the situation evolves, companies realise that, despite lots of uncertainties, they will be forced to prepare themselves for entry into this new world durably and overcome the multitudes of challenges that will arise in front of them.
Many businesses spent the first weeks of the crisis reviewing continuity plans, establishing crisis command centers, and ensuring the safety and security of their workers.
Many businesses spent the first weeks of the crisis reviewing continuity plans, establishing crisis command centers, and ensuring the safety and security of their workers. We would thus now expect these businesses to have entered the "stabilise" wave of a three-wave crisis model (see "The three waves of a Covid-19 crisis response"). That means companies must be learning to operate in "the new normal" while simultaneously responding to immediate fires. Much of the focus in the stabilise wave is on implementing tactical steps to preserve business value, including liquidity analysis, operational scenario planning, and an assessment of the various government stimulus programs. Equally, it calls for businesses to adapt their day-to-day operations and response to the news from Luxembourg government authorities, market or clients, amongst others.
But in the long term, companies are now poised to rethink their future in many different ways and will need to do so very quickly as cost pressure builds up. Seventy-one percent of CFOs surveyed on April 14 ( PwC CFO survey ) said their biggest fear was a global recession, up from 67 percent on March 30; Seventy-seven percent said they are looking at cost-containment measures and 65% were thinking about differing investments. Still, transformation will be required to overcome this situation and keep a competitive advantage or simply stay relevant. CEOs will have difficult decisions to make.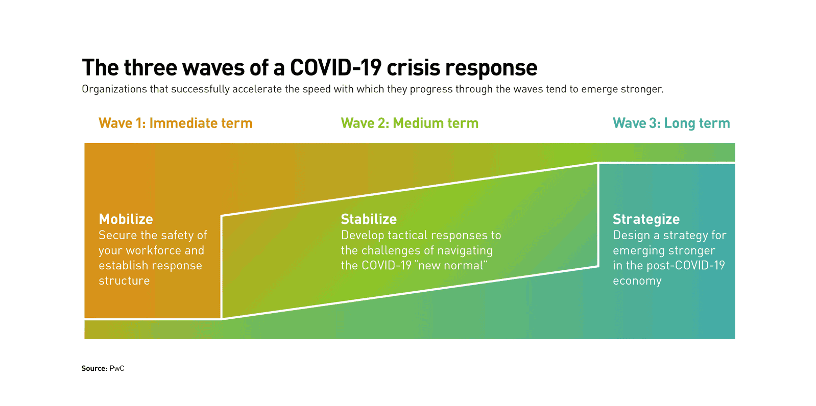 In that context, many companies have struggled in the past years to shape and execute digital transformation plans and have often failed to obtain their full benefits. I was developing this topic in PwC's last Wealth Management Forum, "Navigating into the digital agenda and its cybersecurity implications for wealth managers", hosted in January where we were urging participants to accelerate this transformation. This crisis has put companies face-to-face with the reality and the need for a more profound digital transformation and we can now expect a steep acceleration of digital transformation for various reasons.
The new client paradigm
All relationships have an emotional component – and that holds true for the connection between people and brands. A business's relationship with customers is built over time, nourished by experiences along many online and physical touch points in their journey, grounded in expectations, and confirmed through repeated interactions. A crisis puts both the strengths and weaknesses in the relationship under a spotlight. The situation brought by the pandemic, the stress generated by a long confinement, social distancing, health, family or employment concerns will carry behaviour changes and individual priorities far beyond the crisis.
It will be important to continue reaching out to clients and beyond the responses to today's emergencies, understanding what will really matter to the customers in the months and years to come.
As a result, what customers care about most right now might be changing. Brands with the best price, great products, or most memorable marketing campaign might not have an advantage compared with those that exhibit emotional intelligence and communicate with care, honesty, and empathy, and build trust as a result. In times of crisis, people want to be seen and understood, and they are extremely sensitive to tone and motives. Are companies reaching out to help them – or to sell them something? Does the outreach feel authentic and caring – or does it appear self-serving?
It will be important to continue reaching out to clients and beyond the responses to today's emergencies, understanding what will really matter to the customers in the months and years to come.
The dramatic offset of the physical and digital boundaries in all we do
The enforced social distancing has redefined physical and digital boundaries. In a matter of weeks, we have seen digital replacing physical interaction in very unexpected domains: in the health sectors, doctors are now receiving their patients through video and, in the education field, teachers are interacting with their students over collaboration tools.
Companies for some time now have typically encountered customers on multiple channels: physical (face-to-face), remote (via mail or phone), and digital (via online channels and support). Up until now, companies have probably prioritised efficiency in the digital interactions, backed up by solid physical channels, which have just been severely damaged. The irony in that shift is that now, in the time of Covid-19, it's no longer good enough to just make those experiences efficient. Companies must be more human across those virtual channels too because people cannot get that touch in other ways. So as the situation evolves, we can expect companies to rethink their digital and physical interaction, make them human to make them meaningful and avoid possible digital fatigue. So companies must think about how they can embed human interactions, be honest with the customers about what's changed, and surprise them with unexpected, caring gestures.
The urgency of seamless and resilient end – to end – process
A few days after the lockdown, many companies were urged to put in place remote working at a scale that was barely thinkable. Luxembourg, before the crisis, was already one of the countries with the most remote workers ( i.e. 3rd in the European countries with 11% of the workers ) but in a matter of weeks, companies have, when their activities allowed, put in place remote working as the new norm with up to 80–90% of the employees working from home. This has inevitably exposed all the inefficiencies of the companies: lack of capacity to bring the digital workplace to life beyond the traditional collaboration tools, complexity to dematerialise end-to-end, disruptions in the processes and management of exceptions, lack of coordination between teams, complexity in the flow of information across the company to operate efficiently, steer the business and take decisions, ability to control and continue managing risks adequately, etc. Inevitably, companies will take this learning in order to improve their operations, especially given the relatively pessimist outlook that this situation could last or reappear. The ability to leverage on employees to solve those issues will be crucial.
The adaptive company
With the Covid-19, companies have been urged to dare to take decisions forced by this dramatic and unique experience: remote work, electronic signature, access to cloud solutions, etc. This situation has shown that the world we live in is very uncertain and the ability of the company to adapt itself quickly in the future will be even more crucial. We all prefer to anticipate decisions and dare to experiment in a safer environment when possible. We can't solve new issues using old methods. The complexity of the new challenges requires more experimentation and a different set of capacity companies need to acquire to pivot to this new world while preserving its assets.
Ultimately, Covid-19 is teaching us a great deal about the true nature of interaction and collaboration: that they will lead to a deeper appreciation of putting people first, that brands will have had the opportunity to show their true colors (positively or negatively), and that companies, brands, workers, and consumers are capable of adapting in a positive way to a change that is imposed upon all of us, and emerging, together, in a better place.