GRADEL is an innovative company with 56 years of experience in manufacturing of special purpose machines. Since 2018, we have decided to enter a new business with a process named xFK in 3D. This process technology has been initiated by our partner AMC GmbH in Germany .
The process technology is an additive manufacturing process winding wet filaments wrapping in an endless way for creating complex 3D structures. Defining the right quantity of fibres positioned in the right direction is fully driven by simulation. We call it bionic design according to the principles "FORM FOLLOWS FORCE". The result enables up to 70% of weight savings compared to already optimised metallic structures realised by 3D printing. AIRBUS is calling it a "STEP CHANGE".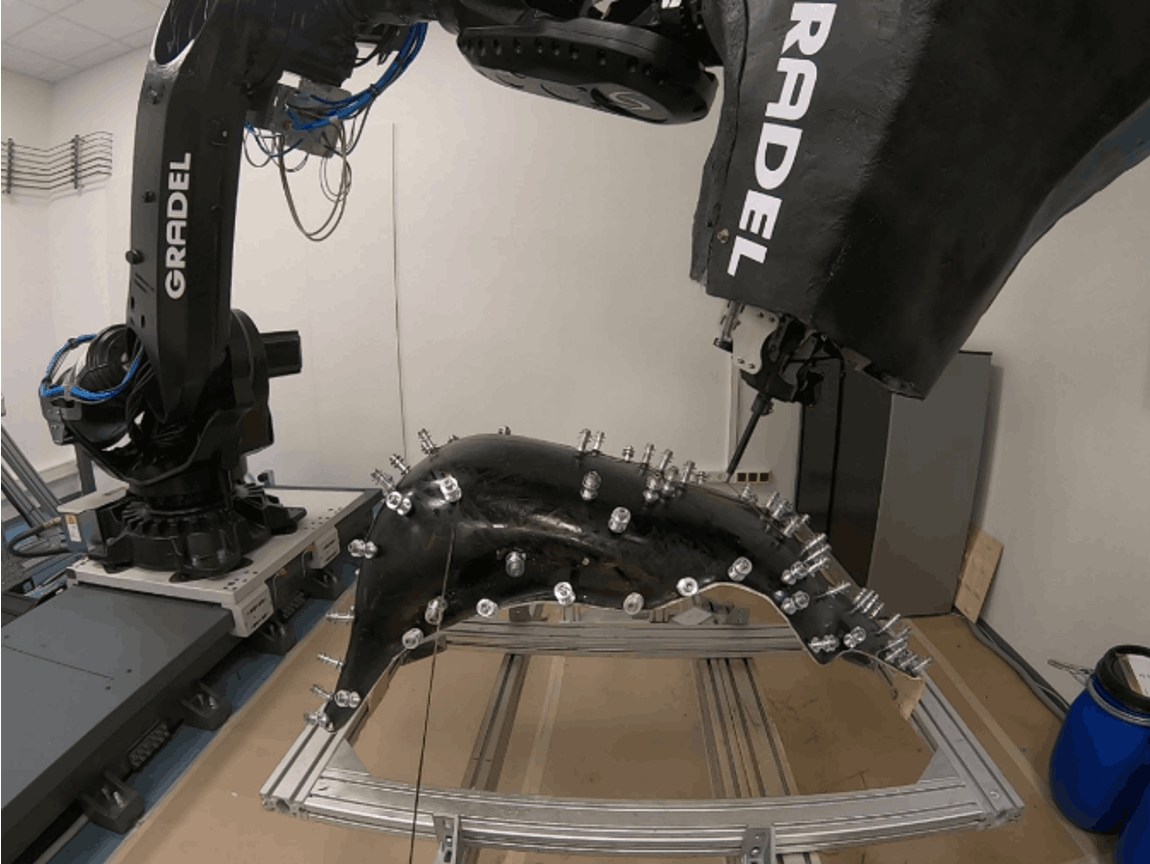 The intelligence of the process is its simplification by using material strength conform in the right quantity in the right place. The result looks simply but it is not easy at all. Therefore, it took 6 years of development, which is typical for disruptive innovations. After the digital process chain was in place, GRADEL industrialised the process with support of LSA (Luxembourg Space Agency), by developing a unique winding equipment. This was realised in collaboration with LIST (Luxembourg Institute for Science and Technology) under supervision of ESA (European Space Agency). The goal is the qualification of flight hardware for Space applications by April 2022. This development is realised in close collaboration with the three associated partners, Airbus Defence & Space, Thales Alenia Space and OHB. Link to video .
The intelligence of the process is its simplification by using material strength conform in the right quantity in the right place.
Lightweight components have been realised so far over the past years out of fabrics on curved surfaces. These kinds of components have generally a cutoff of 30% and the fibres are not used strength conform. This means that more than 50% of the fibres are not needed for bearing the loads. They are just there, and it would be too complicated for calculating them precisely as well as too complex for the manufacturing process. The weak points are the metallic interfaces which are glued in drilled holes. As the mechanical resistance of the resin for fixing the interface bushing is limited to 10% compared to the fibre, one can easily understand why endless filament winding has here enormous advantages. The fibres are never cut and there is no offcut which leads to almost no waste during production.
State of the art today in the market is the use of carbon and glass fibres with epoxy resins. These epoxy resins are difficult to recycle, at least not at an economical viable scale.
Knowing that carbon fibres are made from petrol, consume a huge amount of primary energy during production and that they have therefore a carbon footprint which is a factor of 8 times higher compared to basalt fibres, it makes sense to look for alternatives. Basalt is an excellent candidate. It is not as light as carbon (2,5 vs 1,65kg/dm3), but its mechanical resistance and E-modulus are still high. Another candidate is rayon fibres, made from cellulose of beech wood. Rayon is a carbon hunter and has huge potential as well, while flax and hemp could be used for low solicited.
As a first conclusion, using natural or mineral fibres is the first step which must be done for limiting the global warming potential. GRADEL presented in September 2021 a proof of concept of our high-performance lightweight seat, with Jeroen Bleekemolen, a famous Le Mans champion, as ambassador. It is made from basalt fibres, with a back panel of flax fibres and an upholstery covered with Alcantara. Link to video .
Using natural or mineral fibres is the first step which must be done for limiting the global warming potential.
The next step forward is linked to the matrix system which is constituted of resin and hardener. These systems are today mostly epoxy resins, difficult to recycle. Even if these resins can be made from bio-based pre-products, they are not yet 100% bio-based, but generally far below 60% of bio-based ingredients. GRADEL plans to start a R&D project with LIST (Luxembourg Institute for Science & Technology) to develop a 100% bio-based resin made of organic waste, mushrooms or cashew nut oil as pre-product, which is merging the advantages of thermoset and thermoplast matrix systems in one. This new type of resin will have significant advantages, as recycling of resin and fibre at end of life of the product. Furthermore, it will be possible to repair (self-healing) parts. State of the art today is that carbon or glass fibre components are in most cases not repaired but will end as special waste to be treated accordingly.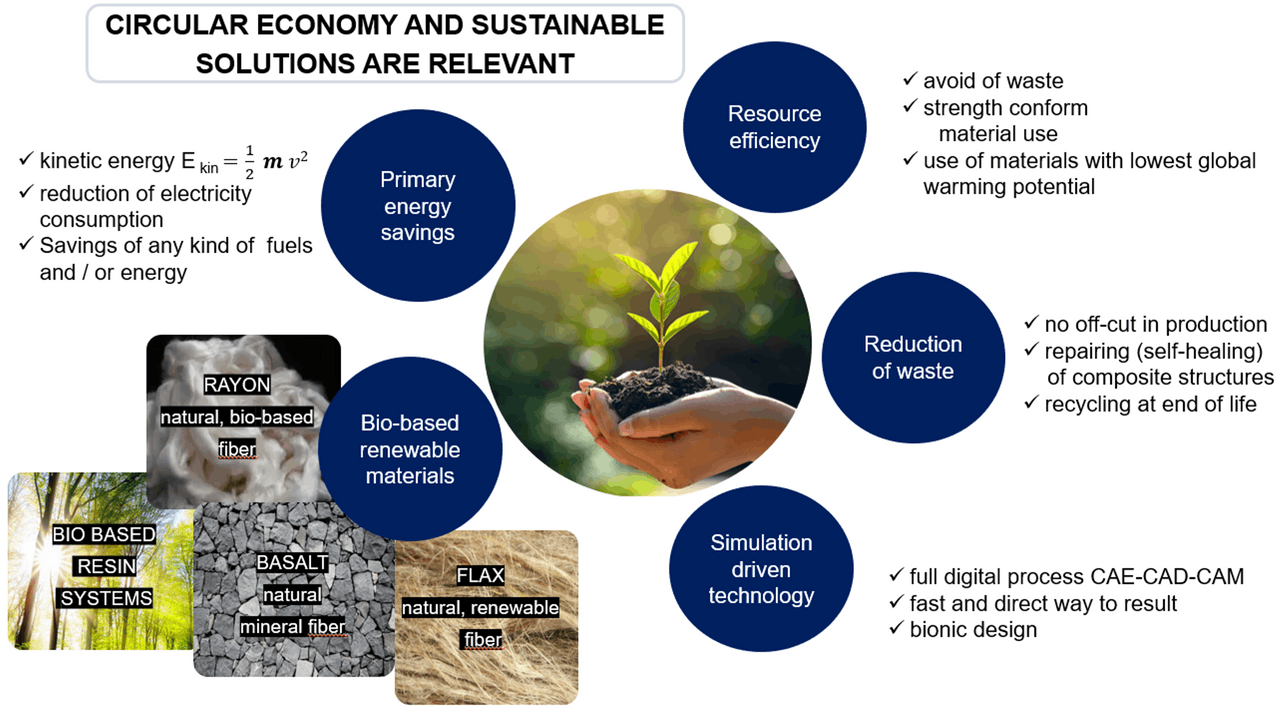 The winding equipment GRADEL has developed now is giving all the flexibility described above for a new market.
"Sustainable lightweight at reasonable cost"
GRADEL plans to develop a new facility in 2022 by starting with 600m2 in the beginning of 2022. A new company is foreseen to be founded in 2022, for developing components including industrial winding equipment which will be distributed worldwide to OEMs and Tier 1 suppliers of multiple sectors (e.g. aeronautic, automotive, consumer goods and others). Focus will be put on sustainable materials. The production of Space components as well as some high added value components will be manufactured in house.
We are searching for investors for fast multiplication "Time to Market/Time to Customer".