The whole insurance landscape is currently being shaken. Unparalleled climate change-related risks are materialising and Luxembourg and surrounding countries have suffered two major natural disasters over the past 24 months.
The pandemic is acting as a change catalyst by boosting digital adoption, the regulatory burden is increasing, and the influence of other sectors and new market entrants is spiking customers' expectations in areas such as speed, transparency, simplicity and freedom of choice.
As a result, insurers whose business model relies on the ability to quantify an event risk and bear the cost, should it actually occur, are rethinking what they do, how they do it, what they own and what they outsource, with whom they partner and, most importantly, how they create and capture value.
To fuel their strategic thinking, insurers are more and more relying on a still relatively untapped potential: data. The amount and diversity of external and internal data they have at their disposal keep growing every day. It makes a solid ground for better understanding and predicting the risk landscape, designing relevant insurance solutions, reducing operating model complexity and improving operational performance.
Maxime Hennau, Senior Manager, Financial Services Insurance Advisory, and Pavel Kostyuchenko, Director, Actuarial Leader at PwC Luxembourg, share some of their views on how insurers ensure they themselves are future-proofed!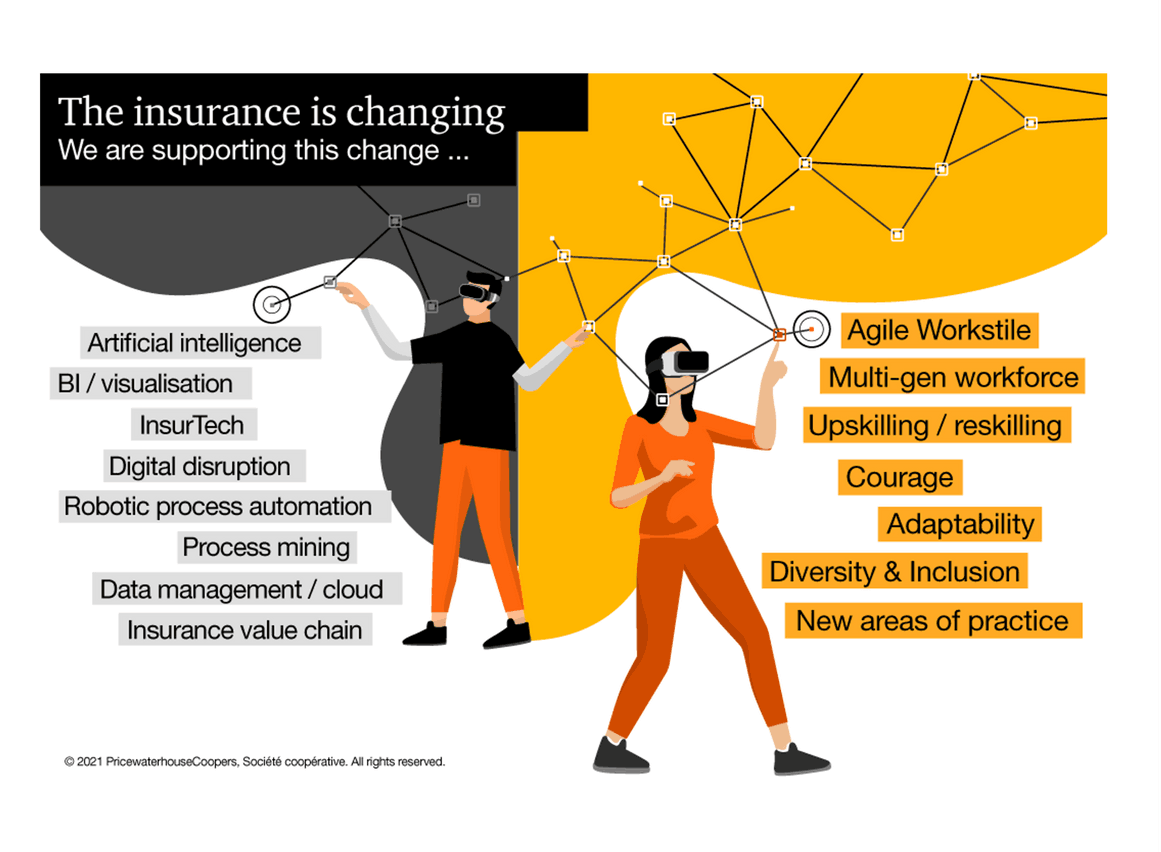 Level up risk prediction capabilities
Customers are increasingly well versed in new technologies and what these could bring to their current insurance coverages. With the rise of technologies such as sensors and the Internet of Things, they are developing an appetite for risk prevention instead of risk compensation.
To manage these expectations and a shifting risk landscape, insurers are pushed to enhance their risk prediction capabilities: selecting among the plethora of external data sources, aggregating data flows in a central cockpit allowing multidimensional visualisation, upskilling people to extract value and create knowledge from these data and understanding business implications in terms of product design and lifecycle management.
Traditional roles, such as the one of actuaries, are redefined and becoming more transversal along the insurance value chain. While they are enhancing their data science skills, they are also becoming more engaged in non-technical areas such as business strategy and communication. They recognise the importance of permanent upskilling and reskilling and encourage adaptability and curiosity.
Traditional roles, such as the one of actuaries, are redefined and becoming more transversal along the insurance value chain.
Insurers are facing technological challenges when answering market needs. In response, insurtechs are providing out-of-the-box and flexible solutions. When integrating smartly in this ever-evolving ecosystem, insurers can leverage on cutting-edge technologies and, in turn, focus on their core competencies and people.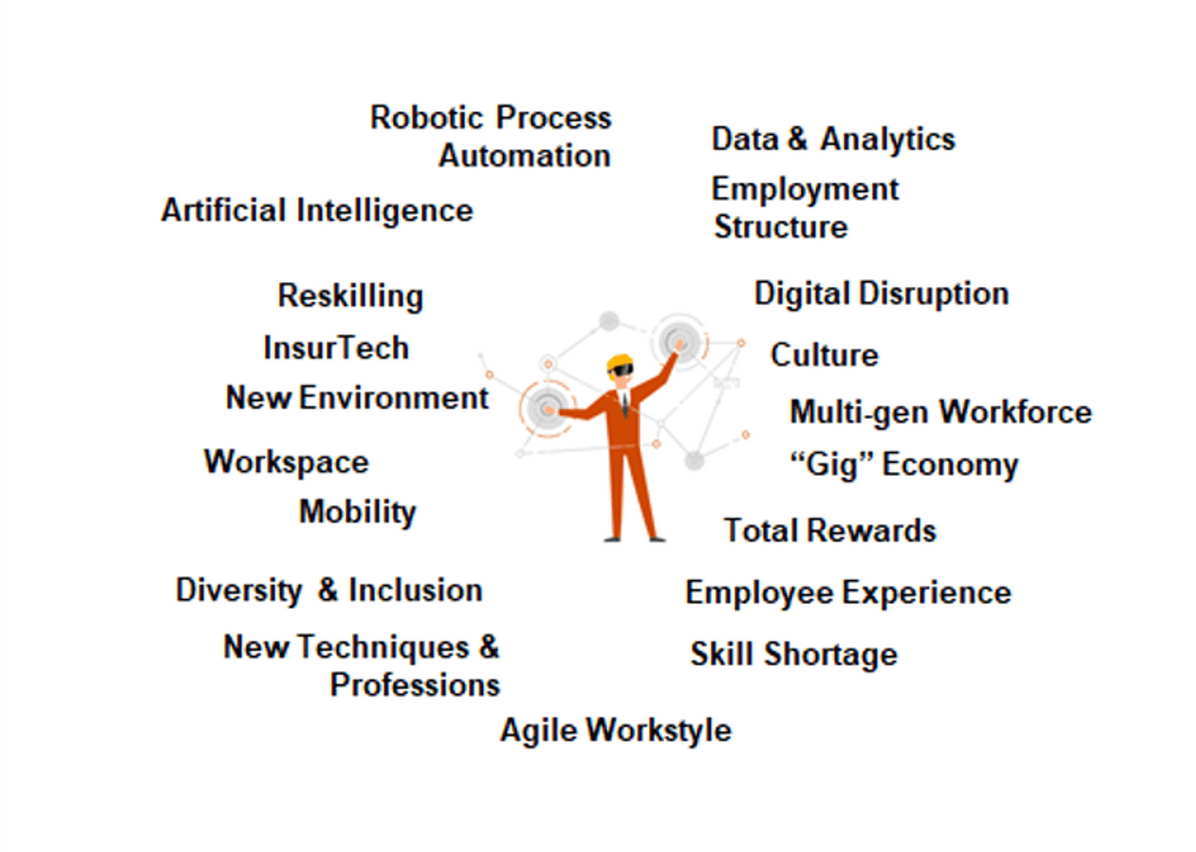 Un-blackbox operations
Emerging threats from GAFA and insurtechs, coupled with lower margins, are putting pressure on insurers to cut their costs. In one of our last PwC global Insurance articles , we estimated that insurers will need to reduce their costs by at least 25%.
Whereas companies acknowledge the relevance of well-designed business processes, the actual performance of these processes is, very often, a black box for the management and even for process owners.
The actual performance of the well-designed business processes is, very often, a black box for the management and even for process owners.
In one of our recent studies about process excellence, half of respondents indicated that they didn't use advanced techniques to capture process insights and were limited to stand-alone KPIs and manual techniques, or that they had no techniques at all. Of those surveyed, 66% admitted that current information sources didn't allow them to capture basic process-related insights like time spent on redundant activities, process deviations or root-cause analysis.
Best in class insurers don't rely solely on traditional approaches, i.e., stand-alone analytics or interviews, that often are accompanied by bias and subjectivity. To cite Arthur Conan Doyle: "It is a capital mistake to theorise before one has data. Insensibly one begins to twist facts to suit theories, instead of theories to suit facts."
To achieve excellence, insurers can now rely on innovative techniques such as process mining, enabling them to exploit logs from IT systems, surfacing objective insights based on process data and allowing them to take the right measures to cut unnecessary costs and remove complexity from their operations.  
So how can insurers better adapt to the unpredictable?
In that race towards excellence, market winners will be insurers with a well-defined data strategy, that have started to implement end-to-end solutions, leverage on cloud and AI technologies and upskill their people. They are clearly one step ahead of the competition. For the others, they'd better not miss the digital wave!